Sublimation Kilts
The sublimation kilts are the kilts that have printed design on the apron and other parts of the kilts. These kilts are the invention in the modern utility kilts as these have every utility stuff. The prints in the form of different designs such as sword print, cartoon print, USA flag kilts, UK flag kilts, Canadian flag Kilts, horror prints, spiderman print, and other prints. These sort of unique utility kilts are the modern utility kilts which are loved by the people of the 21st century.
Unfortunately, many kilts shops were not able to make such type of printed kilts because these shops do not have such printing machines for making prints. Nowadays, many teenagers and modern men want to wear modern kilts for special events, and printed kilts are the kilts that enhance your personality. There are big problems for finding the best kilts shop that makes kilts in different tattoos or print designs. Our kilt store makes kilt with beautiful print designs for our customers. Every design is different from others and they can also make customized designs according to customer's requirements.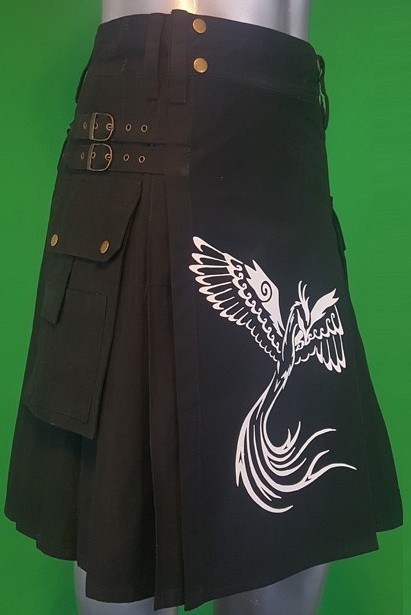 Utility Kilt Tattoo
As we have discussed above, we make different printed designs for our customers. We have USA flag-printed kilts, leopard printed kilts, and other kilts for our customers. Explore our men's printed kilts, you will see the premium collection of these kilts which are available for sale at affordable prices.
Apart from the above beautiful printed designs, our company also offers customized kilt tattoo for our customers. In this product page, we are selling the kilt with an eagle print design on the apron. If you have your own logo or tattoo then sent us to our email address and we can make a black utility kilt in that tattoo design. Furthermore, we can also customize the kilts by adding more buttons, pockets, studs, chains, fancy belt loops, and other useful stuff. In Customized kilt tattoo, you can also send us your company's logo design or brand name. Our printed kilts help boost your business.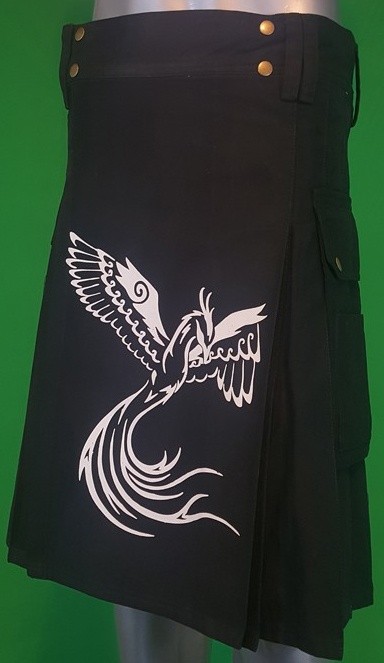 Features of the Kilt Tattoo
Have a look at the features of this Kilt
Cotton Material
Customized Tattoo
Eagle Design
Antique Buttons
Pockets
Material Quality
Our makers have used the original black cotton cloth for making different printed kilts. You will get any sublimation design kilt from us with supreme quality.
For Special Event
We offer customized tattoo kilt facility to our customers. The customized logo kilt is for special events, you can promote your business or go for special parties such as costume party, Halloween parties, clubs, etc.
Comfortable
This printed kilt is not heavy like others, it is the most comfortable printed kilt. You can easily wear this kilt tattoo and move around without any problem.
Better Price
The printed kilts are the unique kilts and kilt companies that make these types of kilts charge more than $400 for a single kilt. Our company always charge a reasonable price for any customized printed kilt, so send us your logo and wear that kilt today.