Black Kilts

The black kilts are the natural kilts, in fact, every black color garment is more beautiful than other colors. The black is the standard and recognized color of the garment and we mostly make our highland products in black color. All the jackets, Kilts, and Sporrans are stitched properly and according to the quality standard. The black kilts are the modern kilts which are mostly liked by people of the modern generation. Our professional kilt-makers make black kilts who work hard for making export quality products for the customers. We added buttons, studs, and other metal hardware in our black cargo kilts. These beautiful kilts have storage pockets to keep important documents and tools such as screwdrivers, wrench, etc. Furthermore, old men and women can also wear these kilts because these are soft and comfortable.
Men Black Utility Kilt
This is another beautiful addition in our men's black kilts. We have attached double and durable belt loops with this kilt. The same black fabric straps with brass buckles are attached with this kilt for proper body fitting. The cargo pockets are also big enough to hold all valuable hand-made tools and other things. These pockets are stitched by using the latest sewing machines. If we talked about buttons, then this kilt has precious and antique brass buttons. Some metal buttons are attached to the pockets while some of them are attached to the waistband. Moreover, we attached golden color buttons with this, but it is up to you, we have silver and matt black buttons, you can choose your own style buttons if you like. This is a complete custom utility kilt in which our efficient and trained workers can able to make every necessary change according to your wish and requirement. Our efficient makers can make more than 100 kilts of the same design without any difficulty.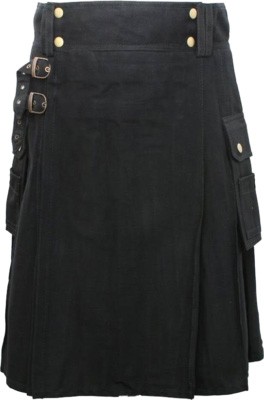 Features of the Kilt
Have a look at the features of this Kilt
Cotton Material
Black Color
Every size available
Customization available
Perfectly stitched
Golden Buttons
Double and durable belt loops
Black straps with buckles
Big size pockets
Internal studs
Wear formally and non formally
Material Quality
We work in a competitive market and have maintained the equilibrium in the quality of our products.
Fully Customized
The customization facility is available only at menkilt.com. Many customers cannot customize the kilt because this service is not available in many retail shops. You don't need to go anywhere, you can customize your product with just a matter of clicks.

Pockets
Normally we have added two pockets with the utility kilt, but a customer can give us instructions to add two more pockets at the backside.
Buttons
We attached golden brass buttons in this kilt but you can change the color of the button according to your requirement.
Better Price
You don't need to pay more price of a kilt, this kilt is available at a cheap price so buy this kilt and saves a great amount of money. Buy now and wear at weddings, highland games, highland sports, and at meetings.