Modern Gray Kilts
Gray color kilts are for traditional lovers. Well, these are the modern kilts, but most of the traditional lovers love to wear a modern kilt in gray color. As we know that khaki and black are also popular kilt colors that people also like, so if you want us to change the color of the kilts then we can do for you. These kilts look attractive in black hardware's that is why our premium collection of men gray kilts are mostly available in black hardware. Some kilts have a simple front apron while most of the Scottish kilts are decorated with the premium metal brass buttons. Our gray kilts also have leather and same fabric straps. We provide our customers with a lot of options and customizations facilities, so they can get the kilt according to their own requirements.
Modern Men Gray Utility Kilt
This is one of the best selling modern gray kilts which has more metal hardware than other simple kilts. Our makers decorated the front apron with the awesome matt black buttons. These are decorated buttons which make the front apron more beautiful. There are two five buttons placed on the front apron. Two on the left side and two on the right side while one is in the center. For better fitting of the kilt, we have attached four matt black buttons and two same fabric straps with buckles.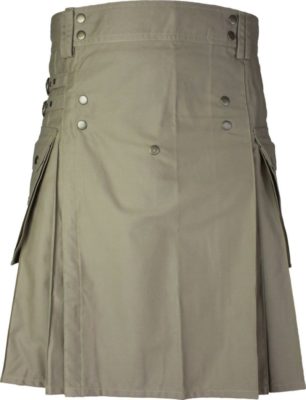 The belt loops are also big enough to carry the weight of the leather Scottish belt. The pockets which we attached with this awesome kilt is also beautified with the black buttons. These pockets are not so big, but still, a standard size pocket, which can easily keep your important things. The stitching on both sides of the kilt to make this kilt durable. The backsides also have two buttons and a sewn pleats. If you are searching for an advanced featured kilt at a minimum price, then this awesome summer utility kilt is for you.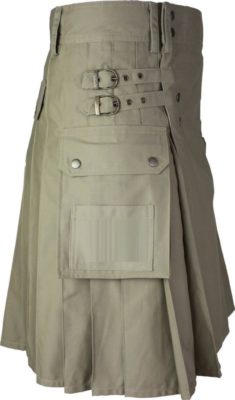 Features of the Kilt
Have a look at the features of this Kilt
Material: cotton
Gray Color
Black Studs
Black buttons
Belt loops
Proper Stitching
Sewn pleats
Beautiful apron
Straps with buckles
Waist buttons
Two pockets
Wear everywhere
Material Quality
The cotton has been used in our utility kilts. We never used the cheap cotton material in our highland products because we work in a competitive market and quality satisfaction is our main motto.
Pockets
There are two pockets and a small back pocket attached with this kilt for you. The purpose of pockets is to facilitate the clients to keep important and valuable things.
Front Apron
We decorate the front side of this gray kilt with the best quality five brass buttons. We can add more buttons, studs, and other things if you order us.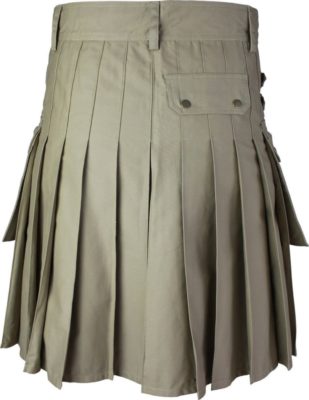 New Condition
This Scottish gray kilt is available for our kilt lovers in a new condition because we make fresh products every time according to the instructions of the kilt lover.
Better Price
This is one of the best selling modern kilts, but we still did not increase the price. You will get this product at the same price as before. So, buy it now.