Gay Kilts
Gay kilts are the kilts which like by gay men. We have a wide range of gay kilts for our customers and these kilts are soft and comfortable and made according to the standard of the kilt. The gay kilts are also called pride kilts as it has all colors of the rainbow. There are a lot of designs and varieties of different gay kilts available for our customers. We make these premium pride kilts with the soft cotton material. Our pride kilts are utility, hybrid, and three material kilts. These types of kilts also have the same utility elements like buttons, studs, straps, buckles, chains, and other essential things. Our gay kilts meet the quality standard that is why people of the UK, USA, Canada, and other countries admire our quality. If there is an LGBT event in your area, then don't forget to try our premium collection of gay or pride kilts.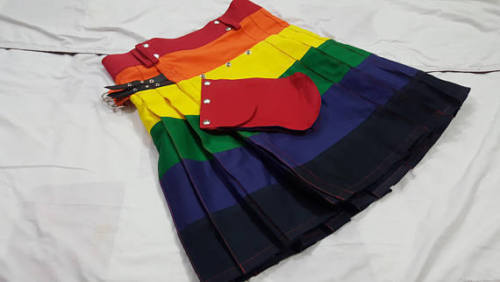 Rainbow Utility Kilt
We are going to discuss one of the premium pride kilts with you. This rainbow utility kilt is soft and the best of the summer season. We don't use hard cotton because pride kilts are the freedom kilts that a person wants. This is a complete flexible kilt which you can easily wear and move around without any issue. This stylish handmade kilt is free from the itching problem. Furthermore, this beautiful kilt has only one removable pocket on the front side. Removable pocket is the pocket that you can easily remove. If you want to wear this pride kilt without a pocket, then you can do it easily. There are also two straps and buckles like in other utility and hybrid kilts. The brass studs and buttons also attached with this pride kilt for you. Every gay man wants more pleats in a kilt that is why it has more pleats which make this kilt beautiful. The stitching in this pride kilt is also up to the mark, so buy this beautiful gay kilt now.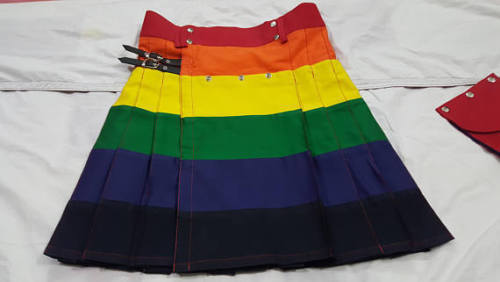 Features of the Pride Kilt
Have a look at the unique features of this Kilt
Material: Cotton
Customization Available
No issue of size
Removable Pocket
Red Belt Loops
Black Straps
Brass Buckles
Internal Studs
Beautiful Silver Buttons
Sewn pleats
Material Quality
We have used the different color cotton fabric in this kilt. Brass buckles and other hardware to make this kilt more durable than other similar kilts of different expensive brands.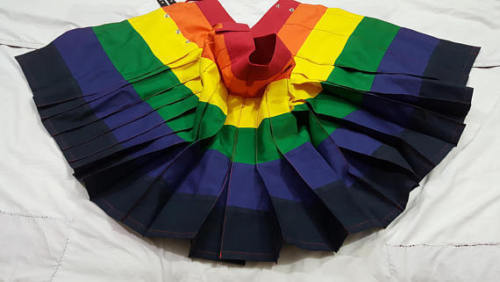 Fully Customized
We have professional and skilled workers who make customized garments for our customers. Our skilled workers can add or remove anything according to the order of the customer's, so contact us for any work.
Hand Made
A perfect hand-tailored kilt for you guys in which we use the fully equipped and modern machines for stitching and cutting.

New Condition
This beautiful pride kilt is available in a brand new condition. We have never maintained the stock of pride kilts, so you will get new every time form us.
Better Price
This beautiful pride kilt is available at a discounted price, buy now.