Modern Hybrid Kilts
We have simple as well as modern hybrid utility kilts for our customers. Our modern hybrid kilts are not only beautiful, but also durable. We make modern hybrid kilts for men, according to the standard of quality. Our modern hybrid utility kilts are designed for men and make the same design kilts for women. Women also love to wear fashionable dresses such as skirts, jackets, and kilts. These modern hybrid kilts are made with almost every fabric material such as cotton, Camouflage, tartan, leather, and denim. Some kilts are different from the above stuff, such as brocade design. These are the fancy design kilts which have a beautiful handicraft work which attracts the viewers. These embroidery kilts are not easy to make, as it required much effort by the kilt worker. Every kilt maker cannot make these brocade design kilts; it requires more experience and practice. We are going to discuss our new design kilt named Hybrid Brocade Kilt.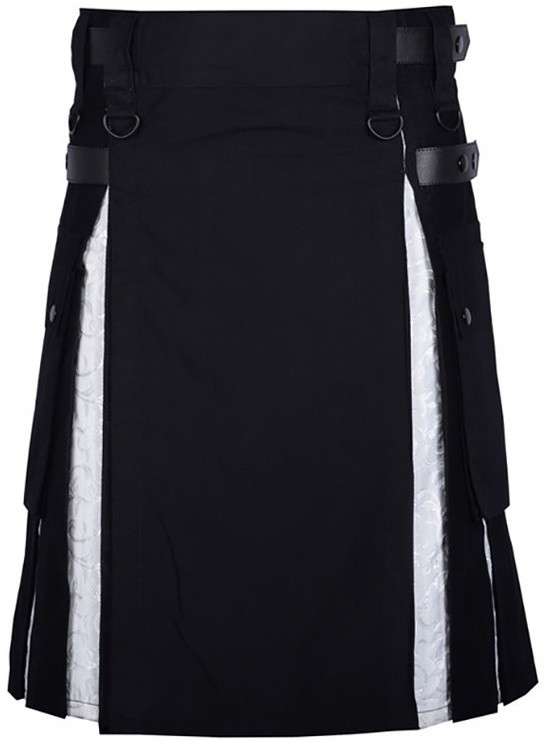 Hybrid Brocade Kilt
This Hybrid Brocade Kilt has a beautiful embroidery design on the pleats, which makes this Kilt attractive. This brocade design is a masterpiece. The brocade fabric which we used on the pleats is expensive than other fabrics. It is an expensive fabric and requires a particular machine for stitching. We have used the latest machine and the best quality thread for sewing the brocade pleats. The primary color of this hybrid brocade kilt is black, while brocade is on the pleats only. Our makers make this hybrid brocade Kilt different from other hybrid kilts by adding original leather straps and buttons. The belt loops are bigger in size and durable to carry bigger Scottish belts. Our makers also attached black metal rings with belt loops so that you can hold any removable thing. Pockets are an essential element in a kilt; that is why we have added two big black color pockets with this Kilt. These beautiful black pockets are also beautified with the matt black buttons. This hybrid brocade kilt is a customized kilt in which our makers can add more buttons, studs, and other things to make this brocade kilt more attractive. A great modern brocade kilt for every modern person who loves to wear stylish dresses.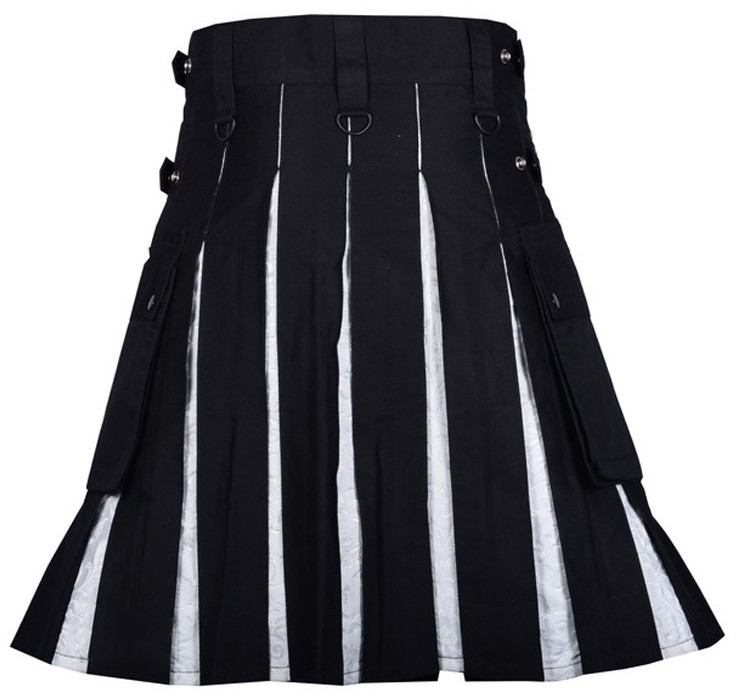 Features of the brocade kilt
Have a look at the unique features of this Kilt
Material: Cotton & Brocade

Custom-made Kilt

Pure Leather Straps

Brass Buttons

Sewn pleats for customers

Black Big Pockets

Metal D Rings

Belt Loops

Wear formally and non formally
Material Quality
We have used two fabrics in this Kilt, i.e., cotton and brocade fabric. This stylish brocade kilt is made according to the standard of the quality so that you will receive original brocade kilt from us.
Better Price
The price of this hybrid brocade kilt is very reasonable for our customers. Now fashion dresses are on your approach. At our company, you will able to buy any product without any problem.