Working Men Black Utility Kilt
This is the finest quality working kilt for men. If you are doing hard work at home or at any other place then there always needs a comfortable dress. We cannot work comfortably with tight jeans or a heavy dress, shorts, or other similar dress is best for household work.  This kilt is the best for every hard work because it is free from sweating and itching and the person who wears this kilt always feels comfortable. You can easily wear this kilt for more than 10 hours. It is the flexible kilt which is made according to the quality standard. We make this stylish black utility kilt more attractive by stitching outside with white thread. The black, white combination makes this kilt more beautiful than other utility kilts. Well, this is the premiere working kilt, but you can wear this kilt at other occasions and crowd events such as new year parties, Halloween parties, etc.
Our makers have attached small pockets and tool space with this kilt to add more handmade tools. You don't need to carry all the tools in your hand. Helping small pockets will do your work. You may notice, we have attached back pockets with this kilt in order to add more things which are the amazing characteristics of this kilt. The pleats are also sewn deep which follows the quality standard. The belt loops are also wide enough to hold bigger Scottish leather belts. Moreover, we have used fancy brass buttons with this black working kilt. Overall a great working kilt is in your budget.

Features of this kilt
Have a look at the unique features of this Kilt
Cotton Material
Dyed in Black Color
Customized Kilt
White Thread
Beautiful Stitching
More Storage pockets for keeping all tools
Belt Loops
Extra Space For holding tools
Beautiful buttons
Internal studs for fittings
Material Quality
We have used the hard cotton material for making different products. This stylish kilt is also made in cotton material and it is the one of the best selling working kilt for men.
Fully Customized
We offer a full customization facility to our clients, so you don't need to look at another shop for customization. Every work is available exclusively at menkilt.com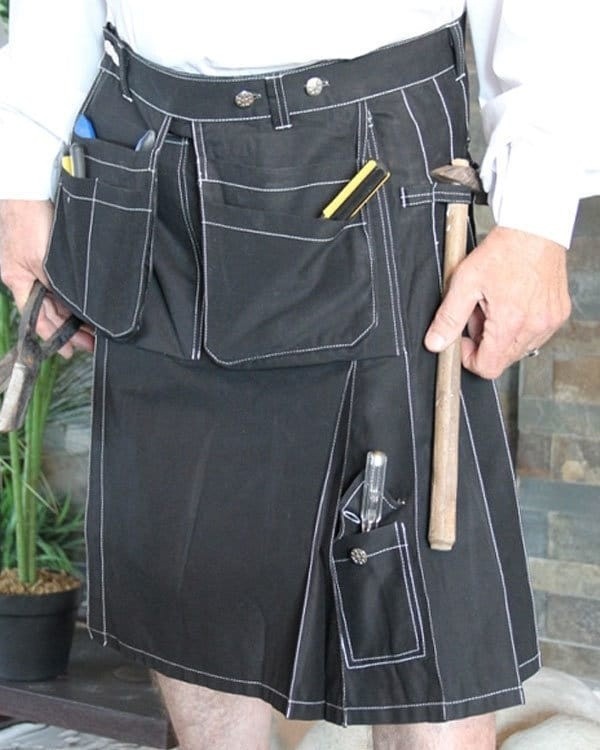 Hand Made
A perfect tailor-made kilt in which we have used the best thread for stitching. This premium work is done with a fully equipped sewing machine. Our makers are professionals in this field and carefully iron the pleats.
New Condition
This working kilt is available for sale to our valued customers in a brand new condition.
Extra Pockets
This kilt has more pockets than other working kilts. We haven't only added two back pockets, but there is also holding pockets to hold handmade tools.
Buttons
Our makers have used the best quality buttons in this kilt.
Better Price
Here at menkilt, you will find the best prices on every highland product. This Scottish working kilt is available at a cheap price.  Buy now and wear for household work.